Arike Ogunbowale
Ogunbowale dropped 13 points to go along with three rebounds and two assists in a 91-69 loss to AGU Spor last weekend. The Wisconsin Wonder is now averaging 24.0 points per game and has scored 601 points since going overseas, leading all Wings players and just 29 points shy of her 2019 WNBA point total.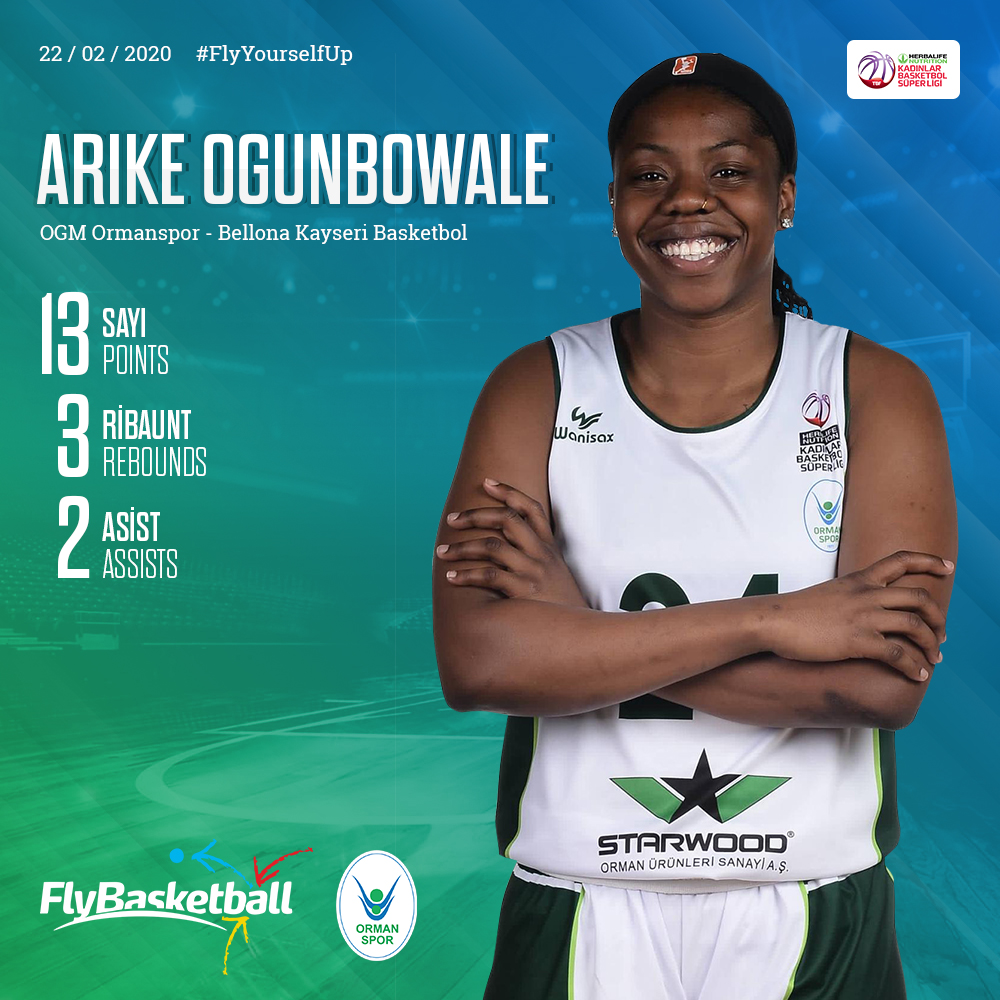 Megan Gustafson
Gustafson scored seven points to go along with four rebounds and a steal in 28 minutes. She is now averaging 15.9 points and 8.3 rebounds per game since heading overseas and Iowa's last number 10 was also able to find the time to become a dog mom!
Life Pupdate: 🐾February 23rd – The day I officially became a Corgi Mama 🦊 Everybody, meet Pancake! 💕🥞 pic.twitter.com/xHlk2raYv5

— Megan Gustafson (@GustafsonMeg10) February 23, 2020
Karlie Samuelson
The Stanford Sniper returned to form in an 80-50 victory against Ensino last weekend, going 7-8 from the field and 4-5 from deep for 22 points to go along with four steals, three rebounds and two assists. It is just Samuelson's second time scoring more than 20 points since heading overseas, the last being her 33 point explosion in a Eurocup game on October 24th against Olivais Coimbra.
MVP y TOP SCORER 🏀

Y directa al MEJOR 🖐️ de la J21 #LFEndesa@ksam44 y su fusil 🔫 22p, 88%TC, 3r, 4 ro, 2 as 26 val en 25min pic.twitter.com/otIzfxRPsl

— Perfumerías Avenida (@CBAvenida) February 24, 2020
Kayla Thornton
The only Wings player with two games last week, Thornton had two double-doubles in the KB Stars two victories, leading the team with 19 points and 13 rebounds in a 79-69 victory at Woori Bank on February 20th before following that up with a 17 point 13 rebound performance against Shinhan Bank in a 77-60 on February 22nd. The Majestic Miner has also now played 700 minutes overseas.
https://www.instagram.com/p/B81ErHBlXl_/?utm_source=ig_web_button_share_sheet
Isabelle Harrison
Harrison's game at San Martino di Lupari was postponed due to a concern regarding the Coronavirus. She returns to action against Iren Fixi Torino on March 1st.
⚠️⚠️⚠️

Su indicazione del Consiglio dei Ministri, il @Coninews invita a sospendere per la giornata odierna tutte le attività sportive in programma.

Pertanto si comunica che la gara tra Virtus Segafredo e @lupebasket è rinviata a data da destinarsi. pic.twitter.com/WBWXUXVsHi

— Virtus Segafredo (@Virtusbo) February 23, 2020
Kristine Anigwe
Anigwe returned to play against Botas and played limited minutes as she continues to build back to full strength but still managed to drop a 10 point, 11 rebound double-double in a 69-61 victory for Izmit.
Herbalife Nutrition Kadınlar Basketbol Ligi karşılaşmasında rakibi BOTAŞ'ı kendi evimizde 69-61'lik skorla mağlup eden Perilerimizi yürekten kutluyorum.#Gülümseİzmit 🙂 #İzmitSeninleDeğişiyor pic.twitter.com/HDikLfLdEu

— Fatma Kaplan Hürriyet (@fatmakaplan) February 22, 2020
Kaela Davis
Davis was able to drop her second straight 20+ point game against fellow Wings player Arike Ogunbowale, netting herself 21 points to go along with five assists, three rebounds and a steal. The Gamecock Great has now scored 20 or more points in four of her first six games overseas and is averaging 22.8 points per game.